Cryomodule Test Facility (CMTF)
Cryogenic System:
CMTF cryogenic system is supplied by a state of the art Superfluid Cryogenic Plant to supply 40K, 5K, and 2K helium up to 500 W. 2K operations achievable through cold or warm compression systems.
Currently Supports:
Cryo Module Test Stand 1 (CMTS1) used to test 1.3 GHz & 3.9 GHz cryomodules for the LCLS-II project.
PIP-II Injection Test Stand (PIP-II IT) program to test the front end of the future PIP-II Linac.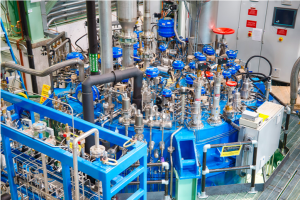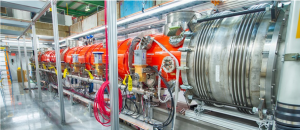 Left: Superfluid Cryogenic Plant, Right: Cryomodule Test Stand 1
New Muon Lab (NML)
Cryogenic System:
Two Tevatron satellite refrigerators capable of 125 L/hr 4.5K liquefaction rate. Kinney Vacuum Pump enables 2 K operations with maximum 2K capacity of ~60W.
Currently Supports:
NML Cryogenic System cools a cryomodule and two capture cavities to support the Integrable Optics Test Accelerator (IOTA) ring to support accelerator R\ D through 150 MeV electrons from RF linear accelerator.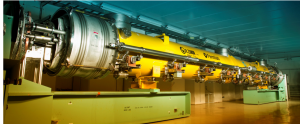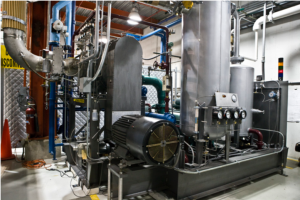 Left: NML Cryomodule, Right: Kinney Vacuum Pump
Industrial Building 1 (IB-1)
Cryogenic System:
CTI 1500 Cold Box provides up to 300 Liters per hour of liquid helium. The system has 4 Kinney vacuum pumps to enable 2 K operation.
Currently Supports:
Test Stand 3 – magnet tests including LCLS-II SPQA, Mu2e HTS lead and splice.
Test Stand 4 – being modified to support HI-LUMI horizontal magnet testing.
LTCF – low temperature calibration of instrumentation including RTDs.
Vertical Test Stands (VTS) – 3 test stands for SRF cavity R&D and qualification tests for LCLS-II and other projects.
Vertical Magnet Test Facility (VMTF) – Magnet R&D and tests.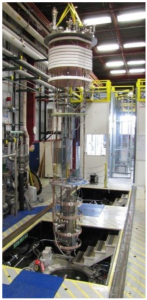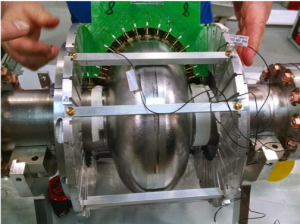 Left: NML Cryomodule, Right: Kinney Vacuum Pump
Meson Cryogenic Test Facility
Cryogenic System:
Three Tevatron style satellite refrigerators capable of ~1000W at 4.5K. A Kinney vacuum pump enables 2K operations to support single cavity loads of 10-20W.
Currently Supports:
Horizontal Test Stand (HTS) – Integrated cavity tests with fundamental power couplers and tuner, supporting LCLS-II 1.3 GHz and 3.9 GHz testing.
Spoke Test Cryostat (STC) – PIP-II 325 MHz Single Spoke Resonator integrated cavity tests, and being upgraded to test 650 MHz cavities for PIP-II.
Rapid Cycling Magnet Test Stand – International Advanced Accelerator R&D Fast-Cycling SC Magnets Tests.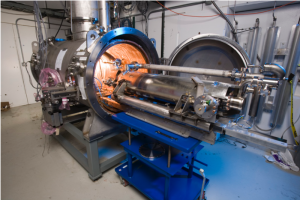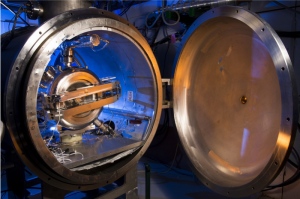 Left: Horizontal Test Stand, right: Spoke Test Cryostat
Heavy Assembly Building (HAB)
Cryogenic System:
The helium cryogenic system consists of two Mycom screw compressors (60 g/s) supporting a 600 Watt at 4.5 K cryogenic plant previously used for the Tevatron Collider Detector Facility (CDF).
Currently Supports:
Testing of superconducting transport solenoids (14) for the future Mu2e experiment at Muon Campus. The test stand in the CDF pit consists of a cryostat with two removable top heads where solenoids are mounted and then inserted into the cryostat.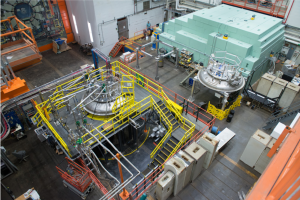 HAB Cryostat
Muon Campus 1 (MC-1)
Cryogenic System:
Consists of four Mycom compressors at A0 supporting four refurbished Tevatron 600 Watt @4.5 K cryogenic plants at MC-1.
Currently Supports:
Provides cooling to the g-2 experiment's superconducting magnet (from Brookhaven) and future Mu2e transport solenoids.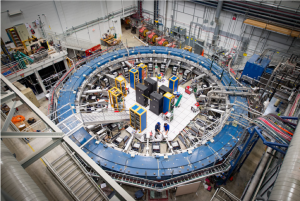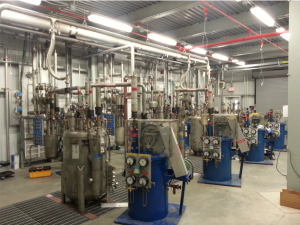 Left: Muon g-2 Experiment, Right: MC-1 Refrigerator Room